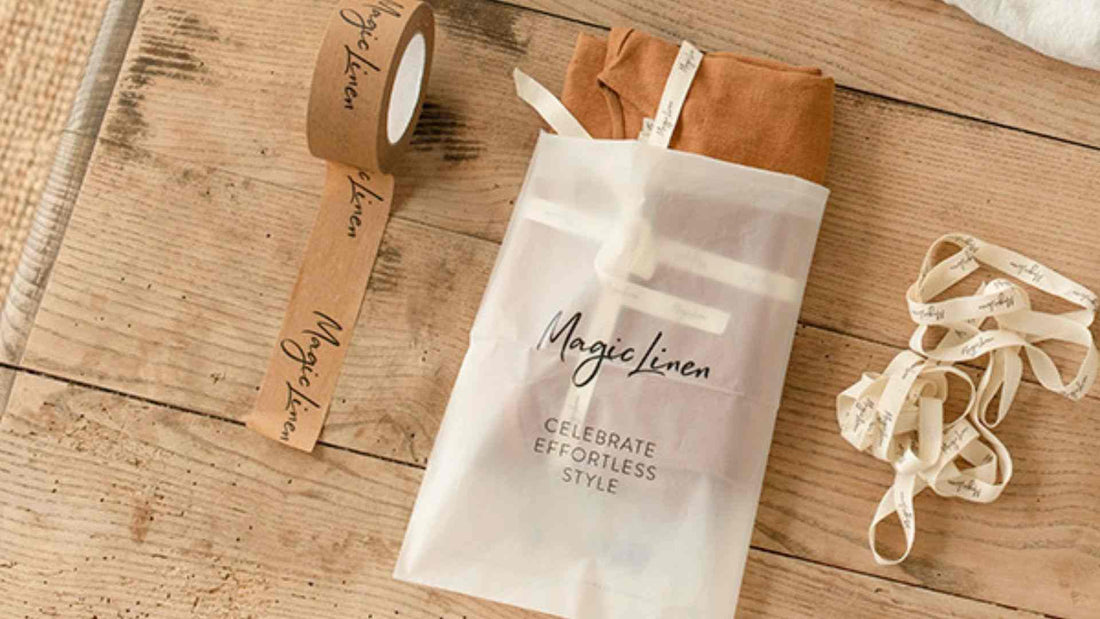 Introducing our sustainable packaging - it can be composted and reused!
From June 2020 we will be saying goodbye to single-use plastic and hello to our new environmentally friendly packaging!
What that means is that we will not be working with any of our old packaging suppliers and there will be a little transition period at the start so please bear with us, we will be doing our best to ensure all orders are in sustainable packaging when they leave us by mid-summer.
Linen, as many of you already know, is a long-lasting natural material, it is strong and durable and will last a lifetime if looked after correctly. However, as it is natural it will quickly decompose if composted so it is only fitting that your linen orders will now come in plastic-free packaging. You can take comfort in knowing that our packaging will not need decades to decompose and fill up landfills. Instead, you can reuse our new packaging or compost it in the comfort of your home.
Every MagicLinen product will arrive to you in a plastic alternative. We have partnered with
noissue
to help us achieve this and we will now be sending out 100% compostable mailers made from a combination of corn-based biopolymers. Our new mailers will break down in just 6 months (180 days) and they are certified for both home and commercial compost. By partnering with no issue we are now part of the Eco-Packaging-Alliance meaning
every time we make an order there will be trees planted in deforested regions across the world. So every purchase you make really does matter!
Not only have we introduced plastic-free mailers but we have also created beautiful linen dust bags to keep your products safe while they travel and provide you with a great reusable bag that you can use for storing anything you wish at home.
Why is this good news?
According to EPA a third of all US household waste is from packaging. We know that means bad news for the environment, it is predicted that by 2050 plastic in the ocean will outweigh the fish (World Economic Forum). And there are many more predictions and bad news if we keep going down the same path.
As a brand, we are excited about being able to offer you the option of reducing your plastic waste and keeping earth healthy. Because our mailers are made out of plants and in this case corn starch and PBAT, a bio-based polymer, they do not leave behind any of the damaging residues that plastics do when they break down. Meaning it leaves the earth exactly as you found it!
How to compost our new mailers, we've broken it down!
A lot of people feel a little confused about how composting works but trust us - it's easy! One thing to avoid though is throwing away compostable bags along with your normal trash. If you do that your compostable bags will end up in landfills where the conditions for composting are not quite right.
If you don't have a home compost then do a little bit of research to find the nearest communal compost site as there will likely be a designated drop off point near you where the local council will pick it up for commercial composting.
Now that you are ready to compost make sure to remove any labels that have been stuck on the outside of the mailer bag including shipping stickers and tape (they are not compost friendly).
Then all you do is add the bag to your compost pile that you have at home. If you don't have one then read this easy to follow beginner guide that will help you get going with composting.
Is there a difference between compostable packaging and biodegradable packaging?
Both terms are often used interchangeably and it is understandable that they may be confused for one another. A thing to remember is that all compostable material is biodegradable BUT not all biodegradable material is compostable.
The main difference is that while biodegradable materials return to earth as they decompose they don't completely disappear and sometimes leave residue behind such as metal or chemicals. Whereas compostable materials disappear completely if in the right conditions. During composting all there is left behind is 'humus' - but not as you know it, it is a substance full of nutrients that will help to nourish soil and plants.