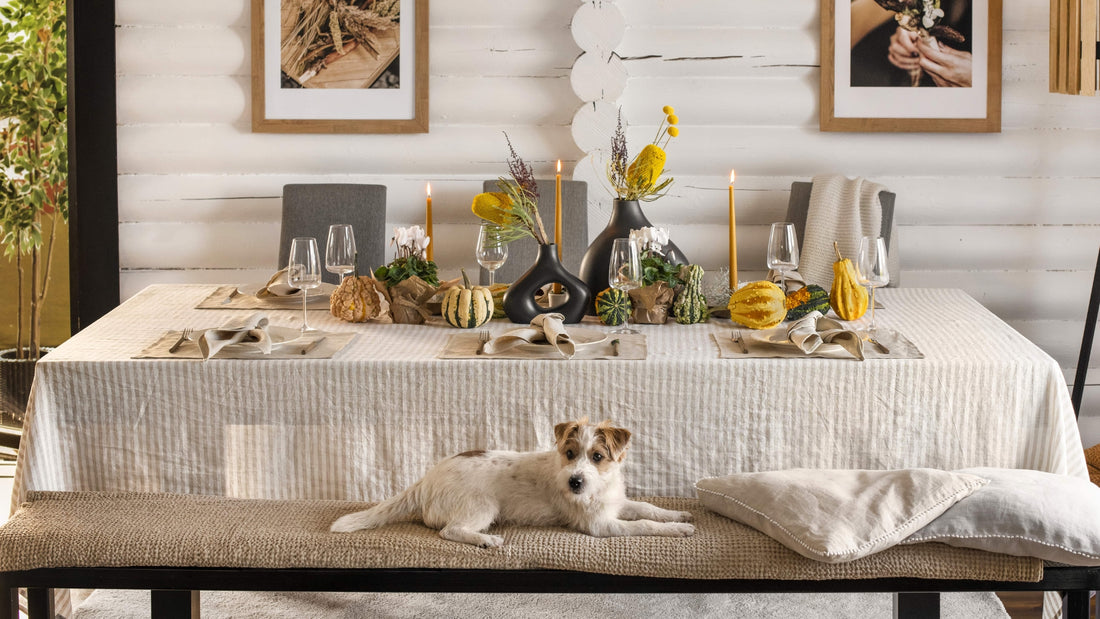 Hosting the Perfect Fall Dinner Party: Tips and Tricks for a Cozy Gathering
As the leaves turn vibrant shades of orange and red, and there's a noticeable chill in the air, it's time to embrace the magic of fall by hosting the perfect dinner party. Whether it's an intimate gathering with close friends or a grand celebration with family, a fall dinner party can be a memorable experience. And one key ingredient for creating a warm and inviting atmosphere is the right choice of linens. With our linen home textiles, you can choose from 22 colors, allowing you to perfectly match your decor to the season or your mood. Here are some tips and tricks to help you host the ultimate fall dinner party.
1. Embrace Autumnal Colors
The first step in setting the scene for your fall dinner party is choosing the right linens. Opt for rich, autumnal colors like cinnamon, forest green, or moss yellow. These hues will instantly add a touch of coziness to your dining area, creating the perfect backdrop for your feast.

2. Layer with Style
Layering your table linens adds depth and texture to your table setting. Start with a crisp tablecloth as your base and then layer it with linen table runners, placemats, or napkins in complementary shades. Layering not only adds a visual dimension but also enhances the comfort and warmth of your dinner party.
3. Choose Quality Linens
Invest in high-quality linen textiles for your dinner party. Linen not only looks elegant but is also incredibly durable. Plus, it's an eco-friendly choice, which is perfect for those who value sustainability.

4. Seasonal Centerpieces
Incorporate the beauty of the season into your table decor. Use fall-inspired centerpieces featuring pumpkins, gourds, and fall foliage. Adding candles to the mix can create a warm and inviting ambiance as the evening light fades.
5. Cozy Throws and Pillows
Extend the cozy feeling to your seating areas by adding linen throw blankets and pillows to chairs and sofas. Not only do they offer warmth, but they also enhance the overall fall decor theme.
6. Menu Planning
Select a menu that highlights the flavors of fall. Consider dishes like roasted root vegetables, hearty stews, and, of course, classic pumpkin pie for dessert. Offering a seasonal menu will add to the authenticity of your dinner party.
7. Beverage Choices
Fall offers a wide array of beverages to explore. Think about serving spiced apple cider, mulled wine, or even a pumpkin spice cocktail. These drinks will further enhance the fall experience for your guests.

8. Weather Considerations
If your dinner party is outdoors, be prepared for unpredictable fall weather. Have a backup plan for sudden rain or cool temperatures. Ensure you have enough warm blankets and perhaps a fire pit to keep everyone comfortable.
9. Entertainment and Music
Set the mood with a fall-themed playlist that includes classic tunes or acoustic melodies. Depending on your space and preferences, you could also plan some games or activities that resonate with the season.
10. Personalized Touches
Consider adding personalized elements to your table settings, such as name cards, that make your guests feel extra special and welcome.
By following these tips, you can create a memorable and inviting fall dinner party. Your choice of quality linen textiles will not only enhance the overall aesthetic but also ensure that your guests are comfortable and cozy throughout the evening. With our linens, you have the freedom to choose from a wide array of stunning colors, allowing you to effortlessly tailor your fall dinner party decor to the season's warm and inviting palette. So, embrace the spirit of fall and make your dinner party an event to remember. Happy hosting!