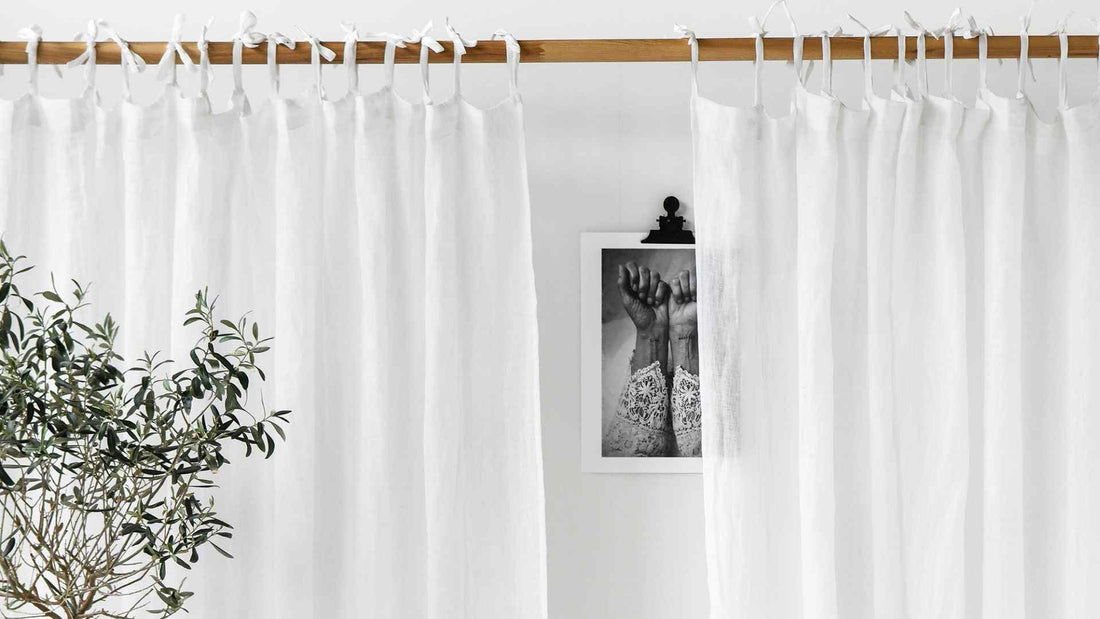 Measuring Guide: How to Measure for Curtains
The role of curtains is twofold: for one, they are a powerful decorating tool that can tie the whole room together, visually expand the place, but they also contribute to helping you get a good night's rest or simply maintain privacy at your own home. Here's how to choose the perfect set of curtains for your window:
Use a metal tape measure for better accuracy.
Measure at multiple points because windowsills and floors are not always level.
1. Measure the rod/track
Start by measuring the width of your rod/track without the finials (decorative pieces on the end). If you don't have one installed yet, measure the width of your window and add 12-16 inches (30-40 cm) to that number: rods/tracks are commonly installed 6-8 inches (15-20 cm) away from the window on either side.
2. Calculate the curtain width
Most window treatments take 2-3 times more material to achieve proper fullness (also called gather). If you use your rod/track measurements as they are, your curtains will cover the width but the fabric will be flattened across the window. To make them overlap, add another inch (2.5 cm) to the width measurement.
To achieve proper folds when the curtain is closed, multiply the rod/track width by two. For a more deluxe look or if the curtains are semi-sheer, multiply the rod/track width by three. For example: if your rod/track measures at 36 inches (91 cm) wide, you'll need curtains that are at least 72 inches (182 cm) wide or two 36-inch (91 cm) curtain panels.
3. Calculate the curtain length (drop)
Now that you've got the width right, you need to decide on how long you want your curtains to be. There are three common curtain drops: sill — ends at about 1 inch (2.5 cm) away from the windowsill, full — ends at about 1 inch (2.5 cm) away from the floor, and puddle — extends for about 1-3 inches (2.5-8 cm) on the floor.
Once you choose the right drop, measure the distance from the rod/track top to where you want the curtains to end. If you don't have a rod/track installed yet, note that they are typically installed 4 inches (10 cm) above the window frame.
Note the headings! At MagicLinen, we offer four different curtain headings: tab top, rod pocket, header tape (pencil pleat), and ties. Tab tops, rod pockets and header tape are included in the length of a curtain panel and are approximately 2 inches (5 cm) in diameter. Ties are not included in the listed length — the ties are 12 inches (30 cm) long when untied.
In addition to differently styled headings, we also offer various a few types, including plain and two-toned. Choose one that matches your interior best! Our shoppers especially love white linen curtains. Also, remember that we can make custom curtains to your desired measurements – just get in touch.