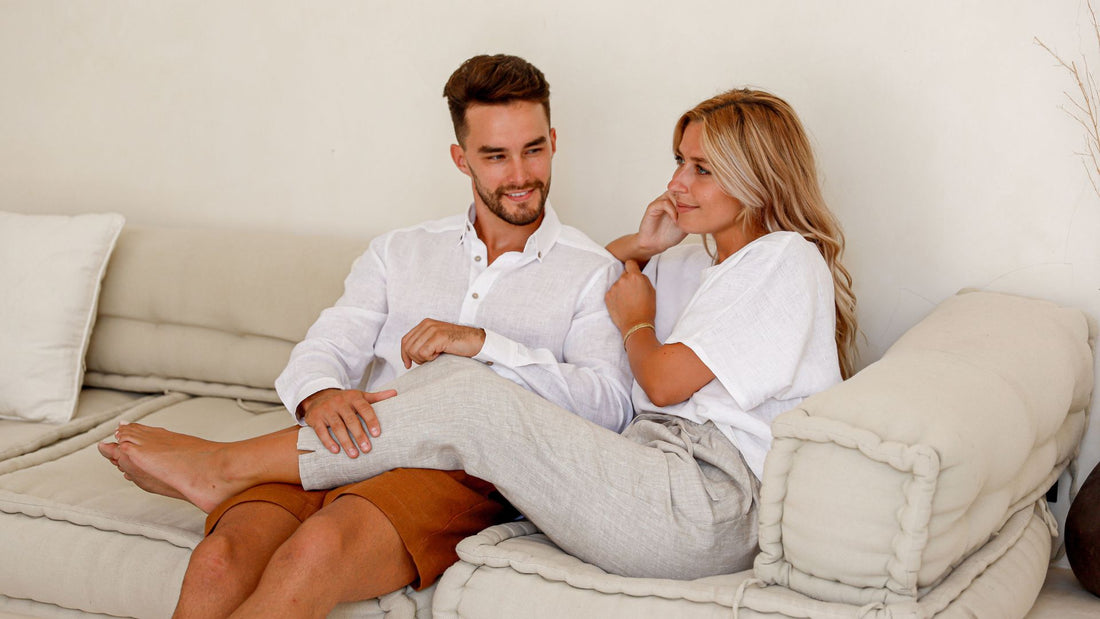 Washing linen pants is similar to washing other linen items. However, a few things can improve the longevity of your linen clothing if you don't damage the clothing while washing it.
Linen pants
and clothing in general are usually more detailed and structured than, for example, linen sheets or duvet covers, it may require some extra attention when washing.
First, check if there are any stains on your linen clothes. If you see any stains, check our

official linen care guide on how to treat the stain.
Then prep the laundry by turning them inside out and buttoning up all the buttons, zipping up zippers, tying up ties, etc.
Make sure your laundry has enough space so it could rinse properly. Don't mix your linen clothing with other heavy items like towels, bedding, etc. Always separate your whites, d, arks, and colors.
Look at the washing instructions on the clothing label and select the appropriate wash cycle.
If there are no instructions on the label, wash your linen clothing in lukewarm water (<40°C/104°F). High temperatures may cause shrinkage of up to 10% and weaken the linen fiber.
Use mild detergent formulated for delicate fabrics. Avoid detergents that contain substances like Sodium Borate, Sodium Hydroxide, Cellulase, Protease, and Amylase.
Never use bleach on linen clothing.
One thing lots of people want to avoid - or at least control - is the creasing that happens to linen clothes. An effective way to do that is by washing
linen clothing
in plenty of space and hanging it to dry immediately after the wash.
When it comes to drying linen pants and other clothes, pre-washed linen can be easily machine (tumble) dried on low heat or no heat. It is very important not to dry your linens on high heat as it may cause significant shrinkage, especially for clothing. Remove from the dryer when they're still slightly damp and hang or lie flat to finish the process.
Air drying is also a great alternative to tumble drying - it's a safer option and also cost-effective. Just avoid drying clothes in direct sunlight as it can cause the color to fade. Shake out your linens before hanging them or line-drying and once they are mid-dry, lay them flat on a white towel. This helps to avoid the stiffness of linen fabric.


Some people like the easy-going rumpled look of
linen pants
, but some prefer the pants steamed or ironed. If you are one of the latter, we recommend using medium-hot to hot iron or steam to get rid of the wrinkles (always check the instructions on the garment first). If you iron, do it while the pants are still a little bit wet to get the best steam and remove wrinkles easily. If you want to iron an item that's completely dry, spray some water on the item before ironing. Hang your pants after ironing (especially if they are still a bit damp) to avoid wrinkles.