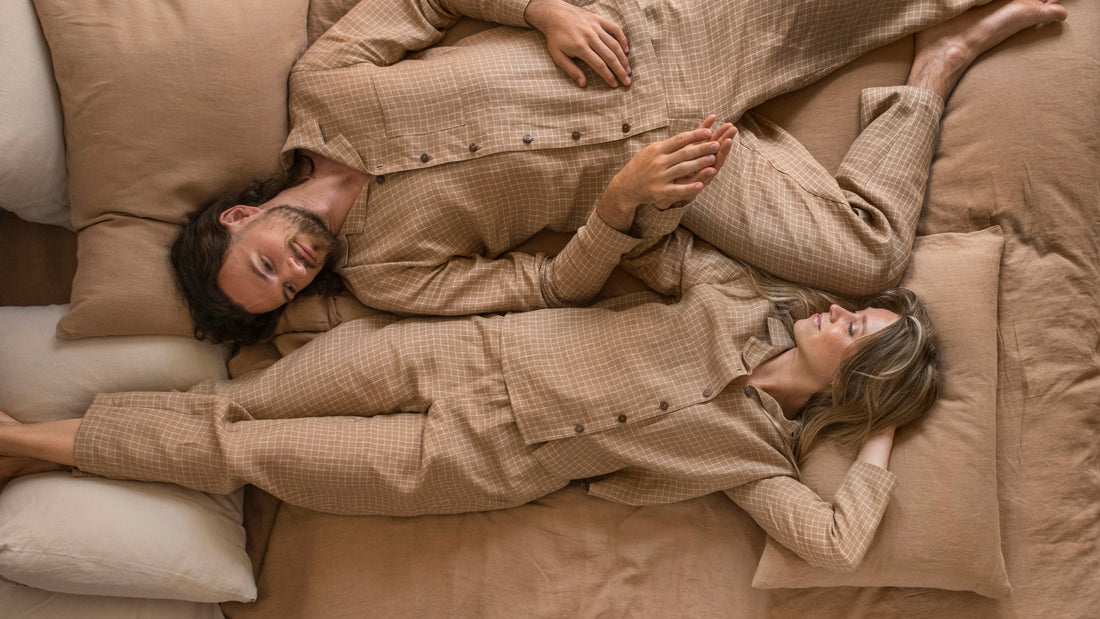 People of ML: Meet Lina, A Self-Worth & Self-Love Coach for Women
In this insightful interview, we join Lina, a self-worth & self-love coach for women (and the model for our latest latte home textiles collection), as she shares her perspective on the importance of authenticity and self-worth in today's world. So if you're keen to delve deeper into the art of self-love and staying true to your authentic self, this is a great place to start.
Could you share what you find particularly appealing or inspiring about working alongside MagicLinen?
I feel aligned with the brand because of our similar values - I love natural, quality materials, I love beauty and simple elegance, and I love a cozy home where you can really recharge in the surroundings which bring you joy!
When it comes to creative collaboration with MagicLinen, I found it really inspiring that you manage to combine humanness, personal touch, and authenticity with high-end production.
We're aware that you personally own a MagicLinen bedding set. What stands out as your favorite aspect of it?
Finally, it's a bed linen that I don't have to iron and it looks even better because of that! I'm joking a bit but it's seriously a lovely aspect of it as it saves so much time. Other than that, I love the fact that it's an organic material and how pretty the linen texture is.
You worked alongside your partner Justinas on the MagicLinen photoshoot. How was this experience working together?
For me, it's always fun to be a part of the creative process, whether it's when I'm an occasional model or as a photographer in my previous career. And in the MagicLinen photoshoot things felt really easeful - the set was beautiful, I knew you had a great photographer and it was easy to relax in front of her, and the other members of the team also were really warm and welcoming. I'm quite used to working together with Justinas, as we have our own creative projects for his brand, so it was also easy to collaborate with him.

In what ways does Justinas support and encourage you to embrace your authentic self and recognize your self-worth?
He's always supportive of my passions, my work, and my creativity, he notices what I do well and compliments and encourages me when I do something that I love. He trusts me, and through that also encourages me to embrace my authenticity. For example, I love art, design, and travel, and he's not so much into art and design, yet he was happy when I went on a recent solo trip to London. He knows that when I go on such trips, and I immerse myself in Women's circles there, meet artistic girlfriends, go to design museums, and get lost in books about art, I am doing what is authentic and really nourishing to me, and he celebrates that. When it comes to self-worth, we both have pretty high standards for what kind of partner we desire and we both strive to be the right partner for each other. So he knows I value myself and I wouldn't tolerate a man who's not kind, supportive, who doesn't cherish me, who never gives me flowers, or who never plans something nice for us. But I think it works both ways, we naturally do nice things to each other because we love and value each other.
How can allowing yourself to be authentic and practicing self-love positively impact your relationships and overall well-being?
Oh, in so many ways! Our emotions affect our well-being so much, and when we're authentic - we're free, we're happy, and we tend to do more of the things that light us up! When you love and nurture yourself and allow your natural, authentic self-expression in life, life becomes so much sweeter 🙂 When we're being authentic, we attract ""our"" people, those who love the real us, and such authentic friendships are such a gift. And when we love ourselves, we draw boundaries easily, we don't neglect our needs, and we retreat from people who are not valuing us and who are not good for us.
How can one begin their journey towards greater self-worth and self-love?
I often say - if you're saying something in your head to yourself that you wouldn't say to your best friend or to a loved one, why are you allowing yourself to say those things to yourself? Every cell in your body ""listens"", and our mood and self-belief can change so much depending on what words we're saying to ourselves. So start by becoming aware of your inner dialogue (ideally, journal for a few weeks each evening noticing how that inner dialogue was today, was it positive, neutral, or negative? What phrases you would rather not say anymore?) and later changing it towards more positive and loving. Imagine how great it would feel if each time you passed through a mirror you'd look into your eyes and internally say something lovely to yourself instead of mindlessly belittling yourself!

What are some mindful practices to give yourself the care and love you deserve?
When we value and love something, we give it time and attention. So in what ways can you give yourself that time and attention? It can look different to each of us depending on our needs and chapter in life. Personally, I love just having daily time for what I call ""morning rituals"", meaning that I start each day by spending some conscious time in the morning doing things that I want to do for my well-being. Sometimes it's intuitive dance, sometimes going for a run in the nearby park, sometimes it's meditation, or studying some course and learning something that will improve my life. I wake up, listen to my body, check in with my mood, and then select what would be the best fit for that day, and I love gathering a long list of beloved practices as options.
This will look different to each of us but truly meeting our needs is the best self-care and self-love. This means that self-care and self-love won't (always) be a bubble bath or something similar and external. Sometimes this will mean doing inner work to heal past trauma, working with a coach towards your big, really important goals, drawing boundaries with people who drain you, or creating new healthy habits. Though some days, bubble bath IS what you need :) A simple evening mindfulness practice that I love is journaling about how I feel. Even if it's just 5 minutes and I'm not going into any stories about my feelings but simply listening to my heart, what is she *really* feeling, and fully accepting it, I leave with a sense of real self-love because I have seen myself.
How do you create a home space that helps you tap into your inner power and embrace your true self?
For me, it's by making my home beautiful! I love beauty and I love sensuality, so I try to keep my home spacious and clean, I diffuse essential oils or burn Palo Santo as incense, play music I love, and decorate with things that make me happy.
What are some powerful inner work techniques that can boost your self-esteem and confidence?
I love inner work and finding ways that can help people transform, and there are many ways that can work (we're all so different as people and we're in different situations) but my personal favorites are EFT and its deeper version for trauma healing called Matrix Reimprinting (as most of our self-esteem issues come from bigger or smaller trauma, it's key to heal it), breathwork, meditation (I especially love meditations from Dr. Joe Dispenza), and embodiment (our bodies hold so much: both wisdom and intuitive guidance but also the past trauma, stuck negative emotions, and working with the body is a powerful way to unlock and release these).
Why is it essential for women to prioritize self-love and self-care in today's world?
I feel we lost so much of our natural magnetism, creativity, and magic as women in the Western world. We're ""in our heads"" so much, trying to rush, achieve, and tackle the never-ending to-do list when our natural energy is way different... When we're loving ourselves and we're calmer, more connected to our body and senses, to our heart and feelings, we radiate that beautiful feminine energy to the world, and it's healing for both us and those around us.
Lina's words resonate with the idea that embracing one's true self and nurturing self-worth can lead to a more fulfilling life. Her wisdom gently encourages us to explore these concepts in our own journey, reminding us of the transformative impact authenticity and self-love can have.