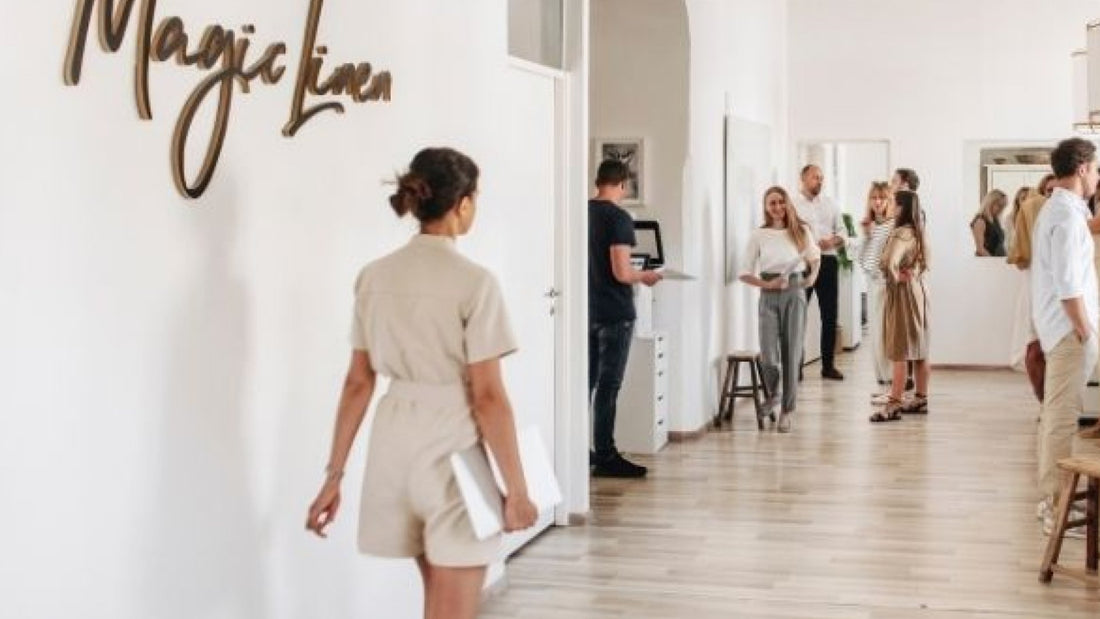 Sustainable Linen Products for Home and Business
In recent days, we tend to talk a lot about the inside kitchen of MagicLinen so we could introduce the ways we approach our business to our clients. Indeed, while trying to create stylish and functional linen products, we face quite many challenges and a great variety of discoveries every day.
Attention to product quality and sustainable ways of producing it has always been at the forefront of our business ethos. As a brand that is part of the global textile and fashion industry, we care and feel responsible for the footprint we leave behind us. And thus, one of our main goals for this year is to find the right strategy and make further steps towards being a more transparent and greener brand. From biodegradable packaging to local supply chain improvements,
sustainability
is always at the top of our priority list. We feel that equally important are other aspects of our business such as our team's values, clients, and business partners we choose to work with.
We know that we wouldn't be where we are today without building close and long-lasting relationships with our clients. In our journey so far, we are so glad to be surrounded by so many linen enthusiasts. While we were evolving and our team has grown from a small family-owned Etsy shop to a fully expanded team full of experts passionate about the textile business and we are very proud to share that
our linen bedding is considered to be one of the best in the market
.
Many households around the world chose our linens and many people fall in love with them again when they try our products for the first time. We believe that each thing that comes into our homes not only has to be stylish but also practical and versatile.
That is why today, we are lucky to see that MagicLinen products are chosen for a range of different occasions: our textile products complement individual bedroom setups, are gifted as presents to the dear ones, selected by the interior designers for their unique projects, used in hotels and restaurants for their inventory, and sold in many incredible boutiques and online shops around the globe. We have been gaining this recognition and trust not only from individual buyers but more importantly, we are chosen and recommended by other businesses too!
Starting to work with our first business partners was a roller coaster for the whole team and at the same time really exciting! Today we can luckily say that our journey so far has been fantastic and we feel special getting to know so many incredible businesses around the world. We choose our partners very carefully and always make sure that our values and visions align. In our journey to build long-lasting partnerships, we partnered with a great number of amazing clients with different use cases for MagicLinen products. We would like to share some of their stories as they are an amazing inspiration for us.
Nature enthusiasts
One of our partners,
hinter
, chose to set up their cabin renting services with our linen bedding. With the minimalistic look and earthy tones, their surroundings look elegant, light, and nature-inspired.
By the way, we admire hinter for their incredible efforts to recover deforestation as for every booking made with them, they plant 10 trees in the surrounding areas in Canada. Of course, as nature lovers ourselves, we feel like this is an amazing initiative and we are happy to be a part of it.
Linen for handcrafting and special events
Sometimes we are noticed and selected by event hosts and organizers who usually choose our table linens for special occasions. We are partnering with several wedding organizing agencies including our great partners
The Rental Factory
in Portugal that create astonishing surroundings using our table linens. We are also happy to be chosen for the special hosting events such as a hand embroidery event with Rachel Hearnem organized by
Goop
where they used our
blue melange bib aprons
.
We applaud those who see our linens from their unique angle. Our friends
Brown Parcel Press
took our linen towels and napkins to a completely new perspective as they decorated them with their beautiful prints. Everything they create comes from the bottom of their hearts and deep love for what they do and value. As they say: "Our biggest dream is for these home goods, like our letterpress, to inspire and empower you to make space for the moments and meals that bring us all together!".
Slow living shops
As we relate to a slow living life attitude and value handmade products, we naturally admire other creators and gladly join our efforts together. Our products can be found in various boutiques and elegant stores globally owned by artists or unique product enthusiasts. One of such shops is a peacefully gorgeous
Earthen shop
based in California. Its founder Julia is a ceramics artist and along with her beautiful and unique ceramics that she creates as sells, you can also find our linens in her shop.
Style and interior decor
It is always fantastic to see how original our partners are when it comes to decorating their shops. Once our products reach their creative hands, we are always surprised to see the results. This happened with our partners based in Tasmania,
Mr. Wolf
store. The founders Vonda and Estella have a mission to inspire their local community by offering them unique interior finds that they bring to their shop. They create amazing home interior setups and we are so excited to see how beautifully linen can be fitted to every interior and surrounding.
We are lucky to get to know and work with the best of their industries such as world-famous designers and architects as the super stylish
Sam Robin Design studio
in Florida that creates breathtaking interiors in unique world locations and offers our linens to their clients. We are also honored to work with our great partners from the hotel industry
Thirty Seven Gozo
and their gorgeous hotels in Malta. Our bedding was chosen for the room set up and it is fantastic to know that their clients enjoy the comfort of our linens while relaxing at such a beautiful place.
Social causes
Same as we care about nature, sustainability challenges, at the same time we care about social causes. Each year during Christmas time, our team gathers to do something useful for our community. From making special Christmas presents to the children in need to dedicating some of our profits to the
Girls Who Code
global initiative, we aim to be a responsible brand and support different kinds of social causes. And yet, when it comes to the products that are in high demand, we are trying to adapt quickly. When the Covid crisis hit, we started the production of
linen face masks
. Apparently, those were a true help for our clients. Now our face masks are chosen by the team of the well-known hotel
The Garland
in Los Angeles and you can find and purchase one for yourself while you are on vacation in Croatia at our partners' store called
Riviera Store
. The shop is located at the very center of Dubrovnik.
We really appreciate our partners who choose us not only for the quality of our linen products but for our philosophy, slow-living lifestyle, and craftsmanship as well.
Do you think that your business could also benefit from having a high-quality sustainable linen supplier with a distinctive perspective on modern lifestyle? Do you have any other ideas for partnerships? Don't hesitate to contact us and be a part of our magic story!