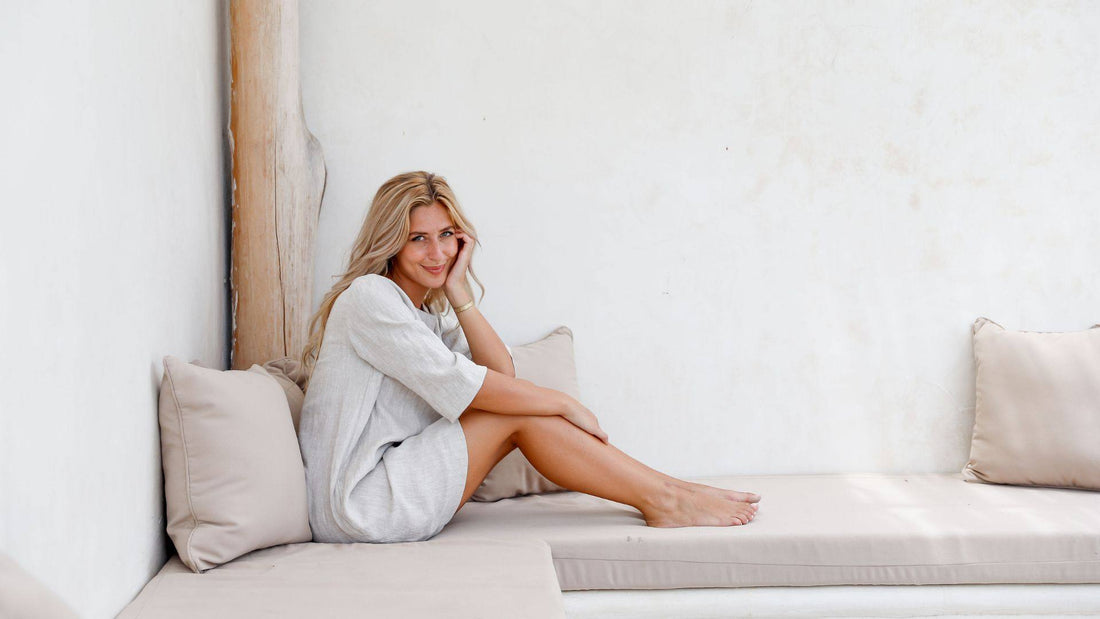 What to Wear Under Linen Clothes?
Linen Clothes are awesome pieces of the outfit - breathable, comfy and good-looking!
Still, some people shy away from purchasing linen clothes because they are see-through.
In the article below, we will give you many tips on what to wear under linen clothes and feel comfortable.
Linen is one of the most comfortable high-quality fabrics - not only it is lightweight and breathable, but also has many other properties that make it perfect for warm or hot weather. Linen clothes are also very universal - if styled properly, they can be the perfect garments not only for the hot summer days at the beach, but also to the party, or even office. No one likes wearing synthetic clothes that stick to your body during hot and humid days.
There is one little drawback the linen clothes have, though. It's the transparency of it. While dark color linen clothes are okay - the neutral, white color linen clothes are usually more see-through than you'd expect.
Anyway, this drawback shouldn't shy you away from purchasing high-quality linen clothes. There are actually many ways of wearing linen and not exposing your underwear. The one simple but most important thing you should learn is what to wear under linen clothes!
What to Wear Under the Linen Dress?
Depending on how much exactly the see-through aspect is bothering you, and how much you are willing to expose, there are a few options for you:
If you simply want to look nice with linen clothes and transparency doesn't bother you too much, you should pay attention to your underwear. Nude and white colors underwear are the most popular picks for the neutral colors of linen clothes. This way your underwear doesn't catch the eye or look extravagant. Choose matching underwear that is simple and minimalistic, such as invisible type, white lace, high-waisted brief, or tap short style undies.
If you want a more catching-eye outfit, you should consider choosing more interesting underwear, such as patterned, matching color (not necessarily neutral color) underwear with prints. For example, if you wear a nude color basic linen dress, you can wear animal print matching high-quality underwear. Add a pair of gladiator sandals and a brown matching hat with some golden accessories - here you have a chic outfit for a summer party at the beach!
If you are very much bothered by the transparency of the linen dress - embellished pants or a skirt can be your solution. Linen dresses are awesome because they can often be worn as tunics or baggy tops. Therefore, a pair of neutral or matching color embellished pants would work great here. Also, you can try a neutral color or matching mini skirt.
If any of these options would work for you - you can always cover yourself with a nice heavier jacket, sweater, long cardigan, or an oversized shirt. Layering is on TOP for the past few years!
What to Wear Under the Linen Pants?
Most of the bright (white, nude, cream) colors linen pants are see-through because they are made of very lightweight and breathable material. You just have to accept that! However, here's what you should wear under the linen pants in order to feel comfortable and to look nice. (or simply appropriately):
Nude underwear. As you probably understand - this solution works for any linen clothes - if you don't know what to wear under your linen clothes - go with nude underwear and you'll be OK. Linen pants are not an exception.
Don't have nude underwear? Light gray or off-white will work too. The thing is, that any color shade that matches the color of your own skin is always a good idea. Therefore, if you have a tan or your color skin is rather dark - the color options might be even different for your underwear. What you don't want is wearing pure white or pure black color underwear - these will only emphasize what's under your linen pants.
For women, the most popular option to wear under linen pants is nude color high-waisted briefs, invisible briefs, or boy shorts.
For men, it's rather more complicated - it's recommended to choose the color of the underwear that matches the linen pants. Therefore, at the time you buy linen pants, take some matching color underwear too. One more thing - white color underwear under white color linen pants is the worst idea.
What to Wear Under the Linen Top?
Nude underwear. As in any case - nude underwear is always a great idea. Choose a basic neutral color bra or sports bra that would be single color without any embroidery or patterns.
Basic top. If you still feel uncomfortable while wearing a sheer linen top - you can wear a basic neutral or matching color cami under your top (shirt or blouse). The most important thing here is that that basic top should be really tight creating a look like it's your own skin. Otherwise, the overall look of the outfit will become baggy and chaotic.
Bralette Bra. You should never forget about this amazing piece of underwear! Bralette Bra provides you with plenty of coverage - it's like a mix of bra and crop top. Again, a nude or neutral color bralette bra goes with everything. But if you look for a more catchy outfit - choose from more crafted bralette bras with more exotic laces.
High-waisted pants/skirts/shorts. If you want to only cover your belly - high-waisted pants are a great choice. They will cover just the part you feel most uncomfortable with letting you wear your nice sheer linen top alone.
So, did we manage to blow your doubts about wearing sheer linen clothes away? Linen clothes are great both for men and for women. Believe me, they are supposed to be see-through. And that's okay. Just like the natural wrinkles, the transparency of the linen is the natural characteristic of linen fabric! Now, with a bunch of ideas on what to wear under linen clothes - there's no reason to feel uncomfortable.