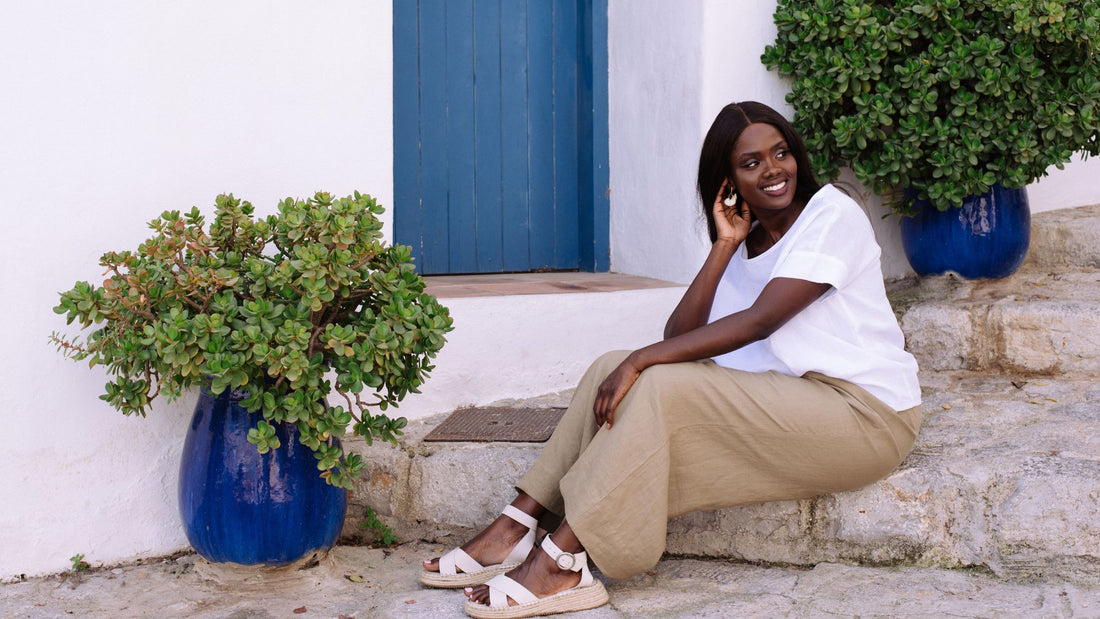 What Top to Wear with Linen Pants?
Linen pants are an essential wardrobe piece because of their versatility. These pants complement various styles, be it bohemian, casual, or chic. You can wear a well-styled linen pants outfit to a business meeting and then to a girl's night out without changing your clothes.

However, to create a perfect outfit, you must choose the right top carefully. After all, it can make or break your entire look. If you're out of ideas or don't know where to begin, we're happy to share our styling advice.
Why choose linen pants?
Many people love wearing linen pants because they provide both comfort and style. These pants are especially great during warm summer days. Linen is a natural and lightweight fiber that allows air to circulate, keeping you cool and comfortable. But don't pack them away once the weather cools. These pants can also help retain heat and keep you warm.

Although some may view linen pants as casual clothing, they are perfect for a sophisticated look when paired with the right tops, shoes, and accessories. Linen pants are versatile and can be styled in many ways, making them a valuable addition to any wardrobe.
How to pick a top that goes well with linen pants?
When choosing a top, it's crucial to consider not only the color and style of the top itself but also how it will pair with the trousers you plan to wear. By considering these components, you can craft harmonious and visually appealing outfits.
Think about the color
Let's start by matching the colors of your top and pants.
If you have white or black linen pants, you're in luck! They can be paired with almost any color of the top, depending on your desired outfit vibe.
To make a statement and draw attention, consider combining your black linen pants with a bright complementary color. A shirt in a rose hue would work well as the focal point of your outfit, creating a balanced contrast between the two pieces.
Now, if you want to rock white linen pants, we dare you to go all white. A flowy or baggy white linen blouse creates a dreamy and relaxed look. Or, if you prefer, you can pair the white pants with pastel colors for a softer appearance. Your efforts will surely be noticed.
If you're looking for the perfect top to pair with bright or bold-colored trousers, don't forget to look at the color wheel. Finding complementary colors is difficult, but you'll look stunning once you get the hang of it. For example, a navy blue top makes green linen pants more vibrant.
But if you'd rather play it safe, pair bright-colored pants with white or pastel-colored tops for a relaxed and stylish look.
Choose the best style
Let's say you picked out wide-leg linen pants. They're just perfect for getting that elegant and charming appearance. So, why not show off your curves with a cute crop top?

For a business casual appearance that exudes comfort and elegance, consider pairing chic wide-leg linen pants with a gracefully flowing spaghetti strap blouse. Complete the ensemble with a tailored blazer for an extra layer of professionalism to your overall look.

Looking for a more form-fitting look? Pencil-shaped linen pants give you a tailored look without sacrificing comfort. You can easily pair these pants with loose button-up blouses or even crop tops.

Are you planning to run errands or spend time in your backyard? Baggy linen trousers are a great option for a comfy and casual look. You can complete the outfit with a matching linen sweater.

If you prefer to look bold and eye-catching, don't put away those baggy pants. All you need is a statement blouse with bright colors and unique details. You'll be sure to make a statement with this outfit choice.
Final stitch
Contrary to a common belief, pairing linen pants with the right top is not difficult. To ensure a great match, consider the color and style of your linen clothing. Begin by picking complementary colors and ensure both pieces flatter your body shape. Ultimately, choose an outfit that makes you feel both fashionable and comfortable.

For more outfit inspiration, have a look at our Spring/Summer'23 Clothing Collection.