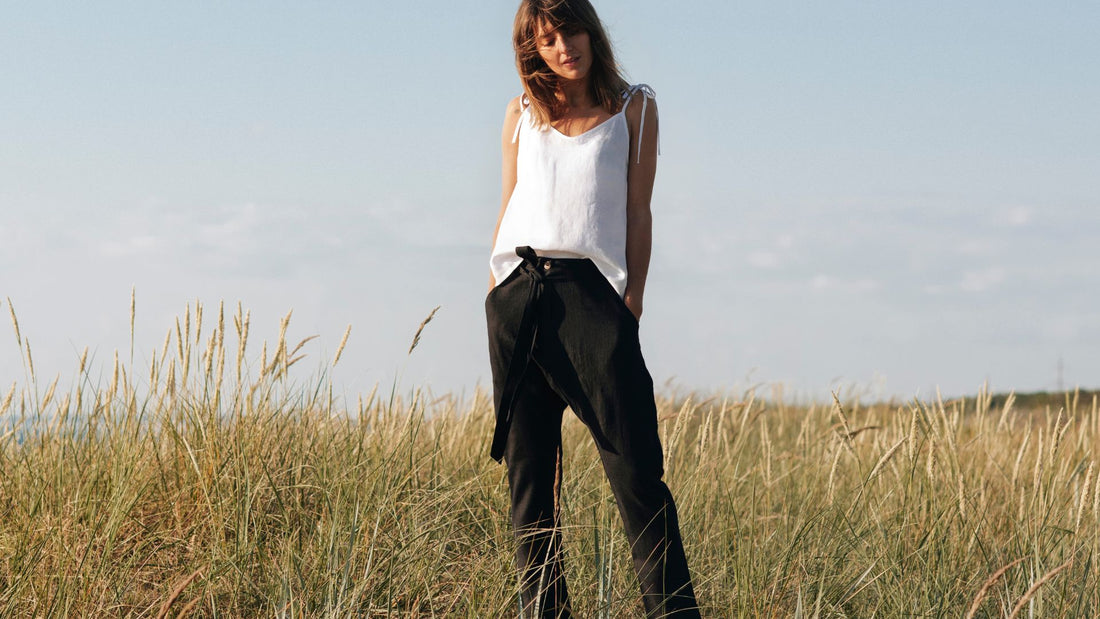 How to Style Linen Pants?
Linen pants are super comfy - they are very lightweight and breathable!
Being light and relaxed, linen pants are not only comfortable but also can be difficult to style with other clothes.
In the article below we will show you some easy tips to style linen pants like a pro.
Some would argue that pants for summer are a no-go. However, not linen pants! Linen pants can be worn both in winter and especially in summer.

Linen pants are one of the most comfortable ones. They are lightweight, soft, breathable, and pretty easy to take care of. Such a combination is totally go-to for warm, humid, and even extremely hot days.
Anyway, creating nice linen outfits can be tricky, especially if you care about fashion. If styled improperly, linen pants can easily look like pajamas, instead of a nice pair of pants.

On the contrary, if an outfit is put together following some easy tips - linen pants can look awesome on any occasion - business meeting, office, or a casual beach day during your summer vacation.
Most commonly, natural linen pants are in beige, sand, or cream colors. However, you can find more colorful options. Still, the more neutral colors are much easier to style with.
As much as linen pants are comfortable to wear, there are still some things you should know in order to not only feel comfortable but also stylish.

Below, you will find some easy tips on how to wear linen pants along with some great outfit ideas. Let's dive in!
Rule No.1: Add Harder Texture to Linen Pants Outfit
If you wear loose wide-leg linen pants with a loose shirt or soft-top - your outfit is at high risk to look like a pajama set.
To avoid that look, linen pants should be paired with a harder texture piece of outfit, such as some kind of accessory, like jewelry, hat, or a nice denim jacket (oversized, or relaxed style one).

Adding both jacket and accessories to the outfit with linen pants is even better!
Rule No.2: Wear Linen Pants Outfit with a Nice Top
This rule is highly related to the first one. In order to avoid the pajama effect while wearing linen pants, you should select the other piece of your outfit carefully.
It is okay to wear a basic top or shirt along with linen pants if you are opting for a more casual everyday look.

However, if you are about to wear linen pants in the office or on some fancier occasion - you should consider wearing a nicer top that would lift your casual linen outfit to the next level.
Rule No.3: Avoid too Loose Tops while Wearing Linen Pants
The most common styles of linen pants are:
slim cut cropped
wide leg cropped
wide leg long
No matter which style is your linen pants, any of them would look way better if paired with the tops that have finished them. To put it simply, when you wear loose linen pants that have a higher waist, or a belt - you should not cover these parts with any long, loose shirt.
Linen pants look way better if you pair them with the tops that are slightly cropped at the bottom (just to meet the waist of your pants). Alternatively, they could have some knots at the bottom or loose-front tuck.

Tops can also be tied or twisted at the bottom, or have a right length peplum - all of them are great choices. Basically, even a top that is simply hemmed to the proper length and doesn't look baggy - would do a trick! The main idea is to keep your body shape visible, not hidden under the layers of fabrics.
By the way, tucking your top into the high waist linen pants is also a lovely way to create a good-looking outfit.
Rule No.4: Pair Linen Pants with the Nice Shoes
Now, it really depends what's the occasion you choose to wear linen pants on. If it's a casual day at the beach - simple flip-flops would be fine to be paired with them.
However, if you want to create a more stylish outfit - you should choose the shoes more carefully because they are a very important detail of the whole outfit that could either upgrade your whole outfit or ruin it.
If you want a next-level outfit that you could wear even to a dinner date, a party or a business meeting - the best shoes to style with white linen pants would be made of real leather, suede, or any other high-quality material. More expensive shoes that look fancier than casual sneakers would enrich your outfit considerably.

Also, you could match the material or the color of the shoes with your purse, clutch, or any other matching accessory. By doing so, your white linen pants outfit would look polished and fancy.
Linen Pants Outfit Ideas
Comfort and high quality are just a few of many linen benefits. Besides that, linen outfits are very gorgeous-looking!

As a bonus, we have made a list of some great linen pants outfit ideas that will maybe inspire you to discover new ways of how to wear linen pants for different occasions!
Casual look. For a more relaxed look, linen pants go super well with any flat shoes - white sneakers, flats, or sandals. Simply wear a basic white t-shirt and pair it with a nice pair of wide-leg or cropped linen pants.

In addition, add some kind of neutral color beige bag (sand, cream, or beige color). That's it! You already have one outfit idea that will encourage you to wear linen pants more often.
Elegant look. Creating an elegant outfit with linen pants is as easy as a casual one - only some changes in the outfit should be made. Instead of wearing sneakers, pair your wide leg or even high-waisted linen pants in, let's say, beige color, with the sandals (white ones would look awesome).

And, instead of wearing a basic white t-shirt, choose a cropped shirt. As a cherry on top - add some nice accessories - a nice leather or suede clutch, golden earrings, and maybe even a hat! Believe me, you'll look great!
Party look. If you are a colorful personality yourself, you should definitely go for more colorful outfits! Instead of choosing the traditional beige, grey, or white linen pants, try, for example, pink or blue-ish linen pants!

Combine them with a cute shoulders-off blouse in white and nice sandals. On top of this eye-catching outfit - add some kind of fringe bag that would match your earrings!
Office look. These days, the office look can be easily worn every day, and vice versa. Fortunately, strict office outfit rules have outdated. However, no matter how comfortable it is, wearing flip-flops in the office is not the best idea.

Therefore, pair your high-waisted wide-leg pants in a neutral color with the, for example, white button-down shirt, and wear a nice pair of black flat mules, or, if you prefer, beige high heels.

Alternatively, if you have high-waisted linen pants that are belted - choose a nice cropped single color blouse and tuck it into the trousers. You can even change the belt into another preferable color and match it with your shoes. However, make sure you keep the colors of your outfit in harmony.
Well, we could obviously continue our list to infinity and beyond because the variety of linen pants outfit ideas is endless! Hopefully, you have got the idea of how to match wide leg linen pants properly in order to create a lovely outfit for any occasion and not to feel like wearing pajamas.
By the way, all of these linen pants outfit ideas could be perfectly applied to the linen shorts as well! It all depends on your own taste and preferences.