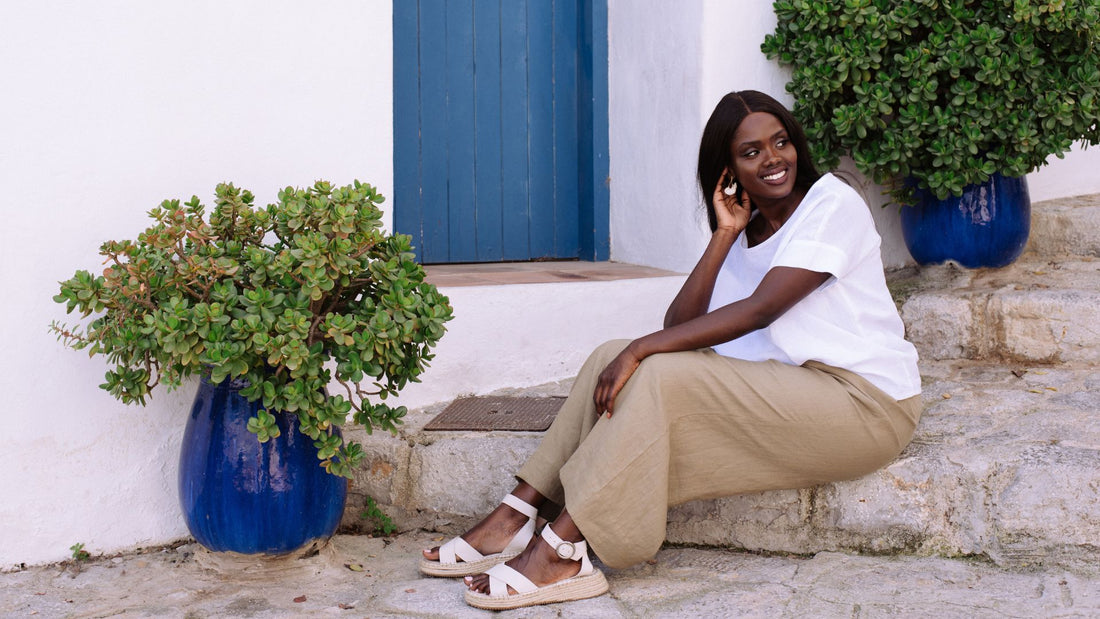 What to Wear with Wide Leg Linen Pants?
Are you ready to feel the summer breeze in your new wide-leg linen pants? They are made for the warm weather. Breathable and tightly woven fabric will keep you cool while protecting your skin from UV light.
Your body will love linen. It's a hypoallergenic material that won't irritate even the most sensitive skin. Also, it's easy to clean. Linen dries quickly and is sand-repellent. So, you can relax at the beach worry-free.
But that's not even the best part. 
These loose-fitting, high-waisted, and wide-leg linen pants can make you look effortlessly stylish. Whether you're out on a Sunday market or rocking a business meeting, you can look fabulous. 
We have some styling tips for you if you're still uncertain how to style wide leg linen pants. 
Simple but classy style
Wide linen pants are often associated with a more relaxed and casual aesthetic. But with the right ensemble, you can take these pants to a whole new level of classiness. All you need to do is pick a more structured blouse that balances out the loose and flowy nature of the linen pants. 
You can have several classic options, such as a button-down shirt or a fitted blouse. But if you're feeling more adventurous, a cropped blouse will do just fine. The blouse should end where it meets the top of the pants or slightly above. Exposing your midriff will contrast the proportions of the two pieces. But avoid overly revealing or casual designs.
Complete the look with pointed-toe pumps or elegant flats. You can complement the outfit with minimalistic earrings or a delicate necklace. Stick to neutral colors that coordinate with your attire.
Reckless summery vibes
If you've got wind in your hair, show it with your outfit. Wide leg linen pants are perfect for looking fabulous while having an adventure in nature type of moment. 
A lace or crochet top is the way to go. The delicate crochet patterns will give you a feminine and romantic look. Alternatively, a loose camisole or a vibrant printed top will add color and stylishness to your look.
Go all in with the accessories. Sunglasses, a straw hat, a big statement necklace, or even a trendy woven tote bag can help you look beach-ready. Don't forget the right shoes. Strappy sandals are great for comfort, while wedges give a more trendy look.
One outfit for all occasions
Sometimes you need a change of scenery without a change of clothes. In such instances, it's best to combine comfort, style, and a touch of sophistication. Feel free to play with matching colors, and include a bold accessory.
For this style, pair wide leg linen pants with a boxy blouse in a complementary color. A button-down blouse is also a good fit. As long as you avoid striped or graphic prints. 
Adjust this outfit depending on the occasion. For a formal event, tuck in the blouse and add a slim belt to define your waistline. Or let the blouse hang loose when heading to a more casual affair. 
Complete the look with shoes that set the tone. White sneakers are great for a laid-back vibe, while closed-toe heels or elegant flats add sophistication. A bold statement necklace or even a belt will help you stand out and look stylish. 
Styling wide leg linen pants may seem intimidating at first. But these pants are a must-have addition to your wardrobe. Follow our simple tips, and you'll love your stylish and chic appearance! 
For more inspiration, visit our Spring/Summer Clothing collection here.