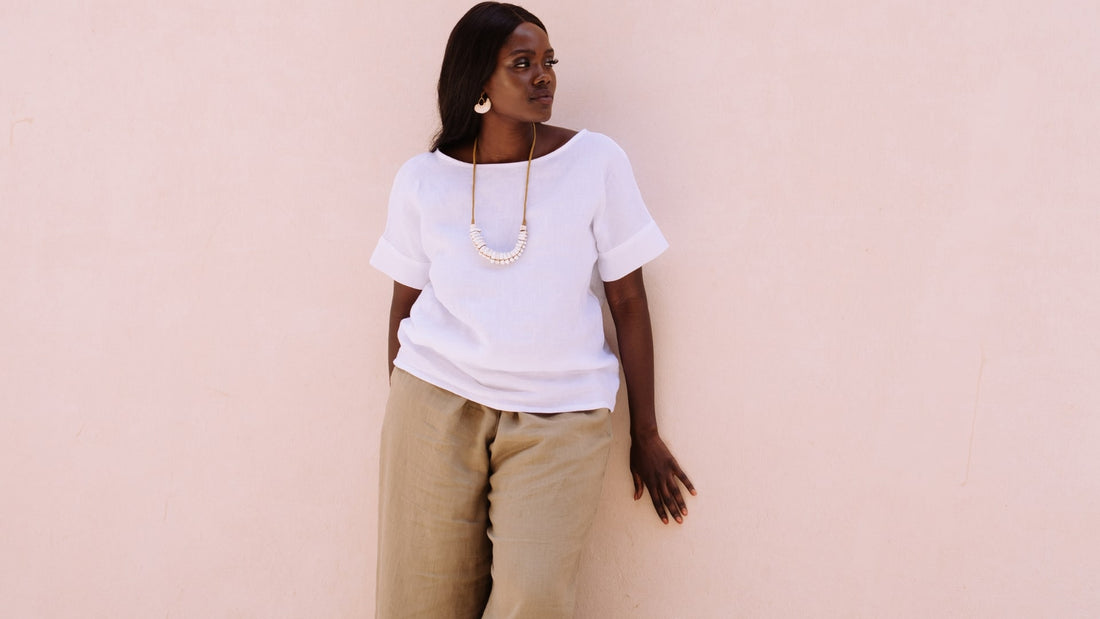 How to wear linen pants to work?
Do linen pants give you summer at the beach vibes? Or do they feel like a perfect fit for having brunch with friends on the weekend? Chances are you haven't found the full potential of this versatile piece.
Linen pants are far from casual. They can be perfect for all occasions – even work.
You'll quickly forget the rigid office attire with the right styling tips. Due to their lightweight and breathable fabric, linen pants offer the perfect canvas for creating polished yet relaxed office outfits. If you want to achieve a chic and professional look, continue reading. We're sharing our best styling tips on how to wear linen pants at work.
How to choose linen pants?
Linen pants will never go out of fashion. This piece of clothing comes in all leg shapes, giving you plenty of versatility to create a wide range of outfits. Yet, a wrong pick may lead to an everyday ensemble rather than a classic and timeless one.
To create a perfect outfit for work, avoid:
Bright and neon colors

. Not only are these colors distracting, but they are also hard to pair. With flashy colors, you'll make heads turn, yet, that's not something you want in a professional setting.

Too baggy and oversized style.

While creating a professional outfit with baggy linen pants is possible, we suggest avoiding it. These pants aren't flattering for all body types and can appear sloppy at work.

Cargo pants.

These pants are great for hikes, short trips, or running errands, as they are comfortable and lightweight. Yet, due to their design, these pants can make you look out of place at work.

Loud and unusual prints.

No matter how much you like to be noticed, attention-grabbing prints can make you look unprofessional.
Instead, pick linen pants that are:
How to choose a top that matches your linen pants?
Now that you know how to pick professional linen pants, it's time to consider the top.
It's easy to go wrong here, so make sure you avoid the following:
Choosing the wrong fabric.

When picking the top, carefully consider its fabric. Synthetic materials like nylon or polyester don't go well with linen. It also includes wool, velvet, or sweatshirt material.

Graphic t-shirts.

Not only are they too casual, but these shirts are hard to match, even for a casual outfit.

Crop tops.

Crop tops go well with linen pants. However, leaving your waist exposed may not be appropriate in the workplace.

Oversized tops.

Baggy tops are mainly designed for casual outfits. Thus this choice may not be professional enough.
So how do you pick the right top? Consider these options:
Complementary colors.

Your outfit will look sleek and harmonious if you choose a top in a color that complements your linen pants.

Monochrome outfit.

Matching the color of your top with the color of your linen trousers is not only a safe choice. It's the best way to create a classy look.

All linen fit.

Linen goes well with linen. Unsurprisingly, matching the materials will give you a seamless and sophisticated look.

Matching fabrics. Cotton, silk, viscose, and satin are a few fabrics that go well with linen.

Button-up shirt.

If you are aiming for a classic look, these shirts will blend perfectly with linen pants. You can tuck it in your pants for a more polished look or leave it untucked and still rock a put-together outfit.

Printed blouse.

A tasteful pattern can turn your blouse into a centerpiece. It's attention-grabbing but professional.

Shell top.

A cute shell top made of silk will add a touch of femininity to your ensemble.

Classic blazer.

If you're uncertain whether your top is professional enough, putting on a 

linen blazer

can change the look. This combination balances the comfort of linen with the formality needed for work.
What accessories are best for work?
Accessories are a great way to show off your sense of style and enhance the overall look. Yet, not all of them are suited for work.
Overly flashy or distracting pieces can make you look unprofessional. Here's what you can choose instead:
Belts.

A slim, classy belt can add definition to your waist when wearing linen pants. Make sure it complements the color of your linen pants.

Necklace.

Even if you want to go big, we suggest opting for an elegant and subtle chain or pendant.

Scarf. 

A lightweight scarf in a neutral color can add a touch of flair to your outfit.

Watch.

If you have to choose one, a small and classic watch is a must-have accessory.

Shoes.

Choose comfortable and matching shoes that are appropriate for your workplace. Heels, loafers, or polished flats can complement linen pants and create a more formal look.
The final stitch
Linen clothing is still not a popular enough choice for workplace attire. For no good reason, tough! If you style correctly, linen pants and a cute top can be perfect for a day in the office. You only need linen pants, preferably wide-leg, and a button-up shirt. Complete the ensemble with a small belt, a classy watch, and a blazer. That's it. You're ready to rock your 9 to 5 with linen pants.