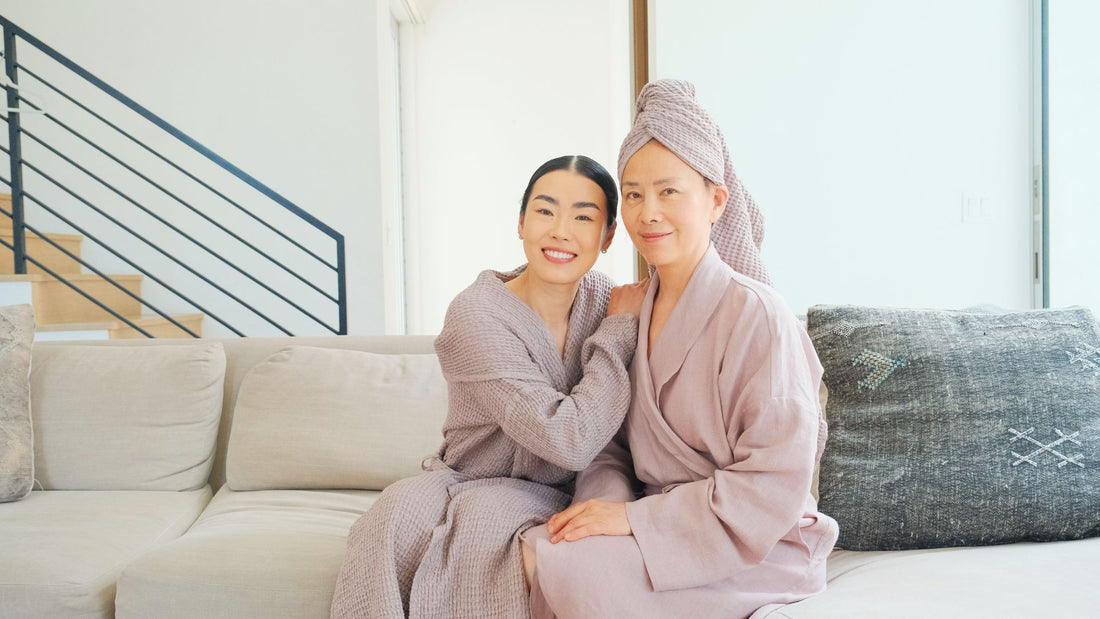 Matchy-Matchy Mother's Day
There's nothing more bonding than sharing the same experience. It is not just a gift, it's confirmation that you appreciate and enjoy the same things. Spoil your Mother with a matching gift - we'll help with an offer you can't resist! To celebrate Mother's Day, MagicLinen is having a special offer: buy one, get the second one with -30% off!
The offer is valid for the following categories: bathrobes, bath towels, throws & blankets, aprons, and PJs. 
Stepping out of the shower and wrapping yourself in a linen bathrobe is what we call a SPA experience at home. With our linen bathrobes, you don't need to go to a fancy spa to feel pampered every day. We all agree that our Mothers really deserve the best, so our linen bathrobes will ensure that your mom feels spoilt and cared for every day. Our linen bathrobes elevate the whole bathroom look and make any evening or morning routine more special. Also, they come in a variety of earthy natural colours, so you won't have any problem selecting something your mom will love. 
Lounging in comfortable linen clothing is the ultimate definition of luxury. Gift the luxury of linen loungewear to your mom and yourself and enjoy the experience together. Hand-made from 100% sustainable linen, they are very soft on the skin, very lightweight, and breathable, which makes them perfect for lounging around or sleeping in. 
Cozying up on a sofa with a warm throw, your favourite movie and your mom by your side is the best quality time. Gift your mom a soft linen throw to make your time together even more precious. A hand-made, sustainable linen throw will certainly become a family favourite - it's warm, cozy, and soft and looks exceptionally chic. And it comes in a wide range of earthy colours, too! 
Looking for something functional yet beautiful to gift to your mom? Our linen waffle bath towels are super absorbent, fast-drying, and will embellish any bathroom. They come in lots of different colours: beige, cinnamon, gray-blue, dusty blue, light gray, white, dark gray, woodrose, redwood, peach, sandy beige, pistachio green, and our newest addition - forest green! 
Love doing fun activities like baking or gardening with your mom? Make sure you are always protecting your clothes while staying in style with our linen aprons. Hand-made from stone-washed linen, our aprons are absorbent and easy to care for. With a unisex look and fit, this apron is perfect for anyone who needs a reliable and stylish accessory for their kitchen activities.
Treat your mom and yourself on this special occasion and enjoy the discount! Shop Mother's Day Offer here.