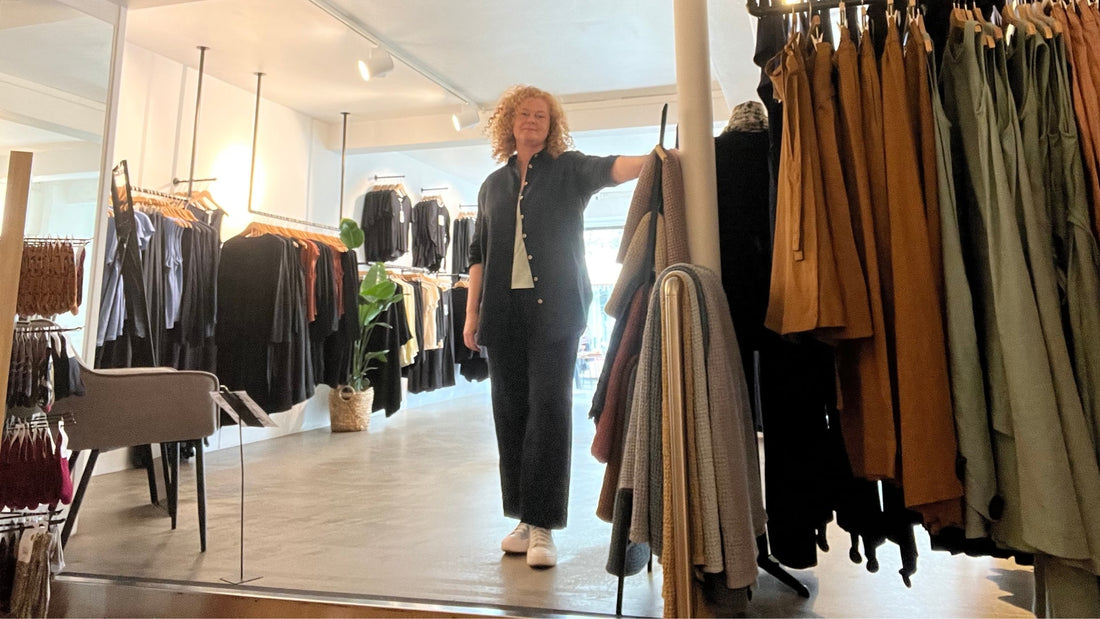 People of ML: Áslaug's Path to Success in Sustainable Fashion
Ever thought about turning your passion into a business? Meet Áslaug who, fueled by a deep love for sustainable fashion and linen, opened her own store Hörg in Reykjavík, Iceland, where she also has a wide assortment of MagicLinen clothing. From idea to successful reality, Áslaug highlights the value of hard work and a strong commitment to sustainability. Her story isn't just about business – it's about inspiring you to listen to your customers, giving it your all, and turning your dreams into something amazing.
Could you share the inspiring story behind your journey to becoming a store owner?
I have been in the retail business for many years, but I saw that it was missing more of sustainable clothes in Iceland. And I wanted to offer people linen and more natural fabrics, so I decided to open my shop.
What important moments in your store's history helped to make it successful?
Well, it's new, so it is still in progress. But at the core is just to keep going and work hard to get the company growing with good quality and sustainable products. And it is very important to listen to the customers and make them happy.
Were there any tough times when you started your business? How did you handle them to become successful today?
Of course there are tough times, each month is different. So it's good to take a look at the previous year and see what I can do better this time.
What are the core values that define your store's identity?
Offer great quality, sustainable and eco-friendly products, and products that you cannot find in every shop. Something special for everyone.
What's the main reason you believe your store has been successful?
I offer products from sustainable brands that you can't buy anywhere else in Iceland. Also, working hard and being in the shop to help customers and hear from them firsthand what they like and what they are looking for.
What advice would you give aspiring entrepreneurs looking to build their own success stories in the world of retail?
Always be in the front and listen to the customers. As the owner, you have to have the insight of what is going on in your company, what do people like? What are they looking for? The customers build your company with you, so try your best to make them happy and just work hard from the start.
You seem to have a strong love for linen. How did you first discover the potential of linen as a product for your store?
I just love linen! I think I bought my first linen clothing a couple of years ago. And then when I was making the decision on the concept of my store, linen came first because I just love wearing it all year round even in Iceland. It is just wonderful to wear in every temperature. Also it is the best organic, eco-friendly fabric that you can find. Also, a lot of Icelanders have lived in Denmark, and people dress in linen a lot there. And there were not that many shops selling linen clothes here in Iceland, so I just had to change that.
Could you paint a picture of your clientele for us?
My clients are of every age and status, but most of them are over 40 years old. I think it's because they have the knowledge of linen. But younger people are starting to learn and discover wonderful things about linen, too. With all the information on sustainability and eco-friendliness they are starting to buy better clothing, too.
What unique qualities of linen do you believe resonate most with your customers?
Breathability of linen and just how beautiful it is.
Why is linen so popular in Iceland? What makes people there love it?
Icelanders love natural products and good quality of linen speaks for itself. Also, they love to travel and buy it before they are going on trips because they don't want to spend their holidays looking for summer clothing. But many also dress in linen all year round. I think it's because wearing linen is inspired a lot by Denmark - here in Iceland, there is a lot of connections to Danish people.
So, whether it's the love for sustainable fashion or the courage to follow your dreams, Áslaug's journey reminds us that with passion and determination everything is possible.