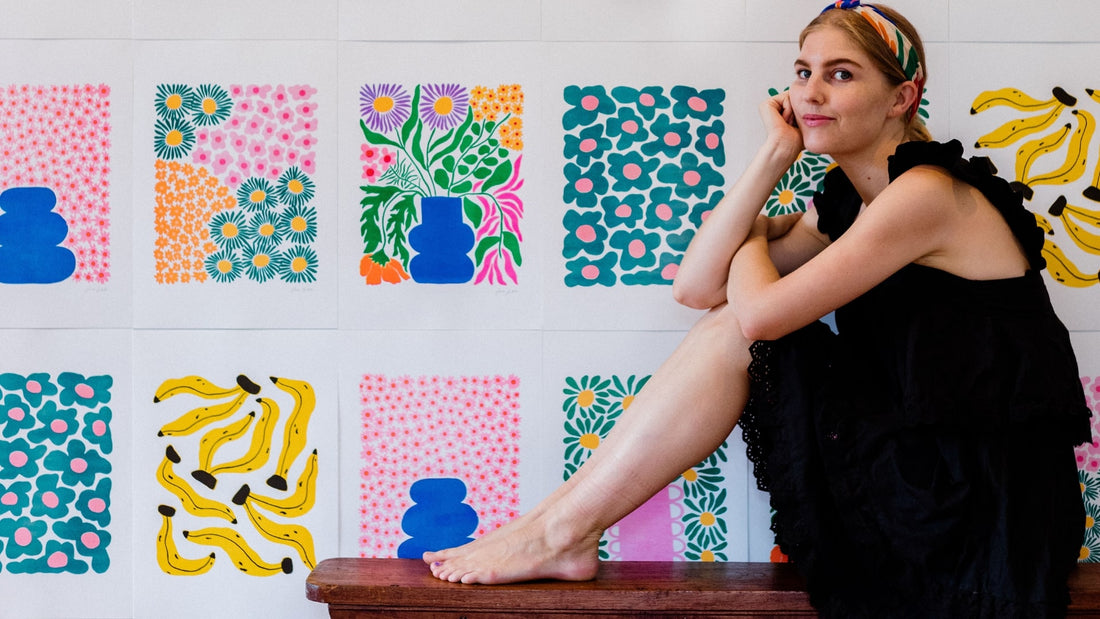 People of ML. Celebrating Artistry with Liv Lee: Unveiling the Vibrant World of Creative Authenticity
Get ready to dive into the creative world of Liv Lee, the brilliant artist behind our funky linen tea towel in banana print! Join us as we take a peek into their artistic journey, uncover the secrets of staying true to oneself, and explore how the vibrant shapes of Australian native flora have shaped her distinctive style.
Your artwork carries a unique and recognizable signature. Could you share how you've managed to stay true to yourself creatively, even as you explore new mediums or partner with different companies?
It hasn't come overnight, but as I have got more confident as an artist I have a few firm aspects of my work that I have been able to pinpoint are key to my style, and I try to achieve them all in my art and client work. These are – imperfection, handmade / textural feel, balance and interesting forms.
Your work often reflects the captivating forms and textures of Australian native flora. Could you elaborate on how these local surroundings have influenced your artistic style and the way you bring these organic shapes to life?
My home and surroundings completely influence my artwork – I am forever inspired by the form, texture, colours and interesting shapes of the native Australian flora. The flowers here are unapologetically bold, and a little bit crazy. Seeing them stand out and be so confident in how they are encourages me to explore interesting shapes and different colour combinations in my work.
Can you tell us about the inspiration behind your signature banana print? What drew you to this motif?
At the time I painted the bananas, I had just had a baby so I had a lot of time at home, and found myself being drawn to paint at every moment I could. Being house-bound meant I was finding inspiration in the ordinary, in the everyday, which included the bananas in the fruit bowl. I found the bananas were perfect to explore my recently found wonky, imperfect style – they're very malleable and forgiving!
Could you share what you find particularly appealing or inspiring about working alongside MagicLinen?
I really loved that MagicLinen is a female founded company and that there is such a commitment to creating high quality products that are made to last. I also related to Vita's vision to recreate the magic of beautiful table linen, as my mum would also bring out the good linen when there were special occasions and with that, you always knew there would be good food and great memories to come.
Many artists go through a journey of self-discovery in their work. How has your style evolved over time?
My art exploration started long before Instagram, and looked very different to how it does today. For years and years I was constantly creating and trying all different mediums – from woodblock carvings to silversmithing to fine line botanicals. I finally landed on my current style which feels true to who I am as a person. Everything I created before this just wasn't quite me, but it all helped to get me where I am today creatively – you have to go through that creative mining stage to discover what really lights you up as an artist.
How do you infuse elements of your own identity and experiences into your artwork?
Similar to my artwork, I don't take myself too seriously and I'm certainly not perfect – my style is fun, playful, relaxed and completely imperfect. I have a deep need to create, and I can really feel it in myself if I haven't been able to paint or draw for a while. Painting brings me so much joy, and I think this carries through into my paintings, with them being quite cheerful, bright and fun.
Can you share a pivotal experience where you had to make a decision between staying true to yourself and adapting to external expectations? How did you navigate that situation while keeping your authenticity intact?
Whenever a brand licenses art, but also adapts it at their end, you can lose creative control on how the final products turn out. I learnt this very early on in my licensing career, when some final product designs were shown to me, and they were just so far from my original art and not true to my style in any way, shape or form! It was a good lesson for me from then on to always have final sign off and work closely with design teams to create an end product that does feel authentically me.
We hope you've enjoyed this captivating glimpse into the artistic journey and unique style of Liv Lee, the talent behind our lively banana print towel. Now, let the inspiration flow and set your own artistic spirit free!