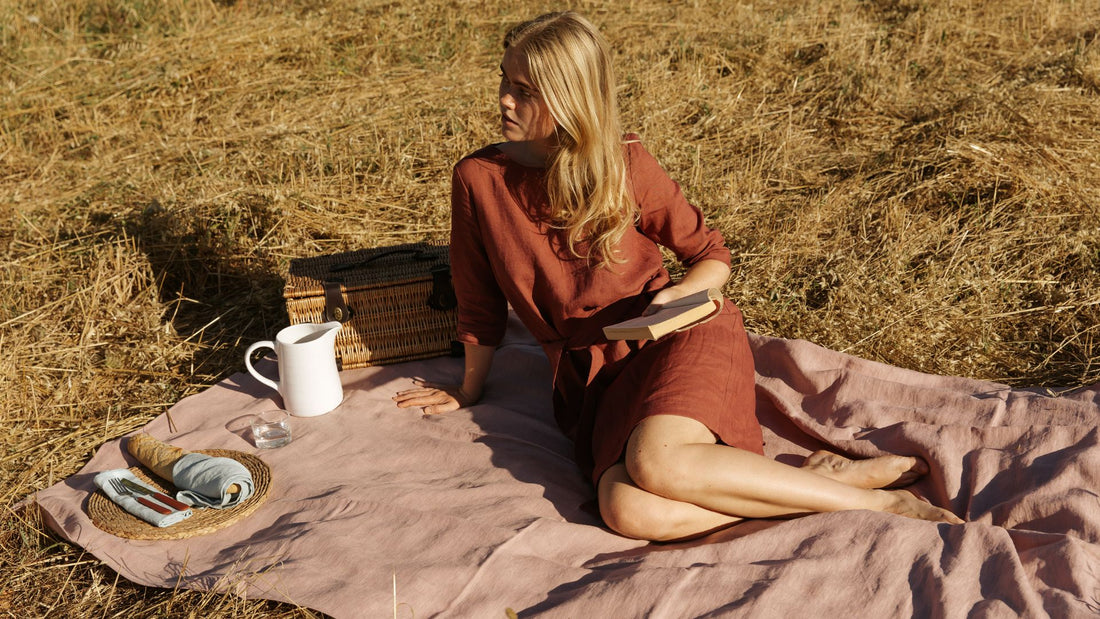 How to keep linen from wrinkling?
Linen is one of the highest quality fabrics used for different kinds of textiles. Those who already wear linen would agree that wearing linen is really comfortable, especially in the hot and humid summertime. Linen clothing is not only lightweight, breathable, and airy - it also looks super chic!
However, linen does have this so-called drawback - it does wrinkle fast. More often than not there is a slight divide between those who appreciate a few wrinkles on their linen and those who simply can't stand the rumpled look of it.


In our eyes, wrinkles suit linen pretty well as they add character and gorgeous texture to items such as linen bedding, linen throws, and of course table linen. Wrinkled linen simply looks very authentic (not like cotton or any other natural fabric).
Besides the bad rep that linen might sometimes receive it is very easy to care for once you learn the basics. For those who prefer wrinkle-free linen, there are some tips on how to keep linen from wrinkling.
Washing linen
One thing we can tell you right away is that you do not need to fuss about running to the dry cleaners every time you wear linen clothes (whether it is your favorite linen dress, shirt, or jumpsuit) or have guests over for dinner.

Linen doesn't need to be dry cleaned it is durable enough to withstand your washing machine. This will not only save you time but also money over time. Just remember to wash your linen at 104F/40C and you shouldn't see any damage.
Before washing linen
There are a few steps to take to keep linen from wrinkling for as much as possible:
Make sure to untangle items such as linen clothing, sheets, and duvet covers when you load them into your washing machine.
Ensure not to overload your machine in the first place. An overloaded drum leads to lots of wrinkled clothes and sheets.
Once the wash is finished it is best not to keep your clean linen shirt or any other garments in there for too long and get it out ASAP to prevent wrinkles from setting.
EXPERT TIP: use a mild detergent and never ever bleach your linen (even white linen sheets).
Drying Linen
Once you've washed your linen sheets and linen clothing you will need to take care of how you dry them to prevent your linen from wrinkling. The good news is that linen dries super fast!
Dry your linen by laying it flat on a towel
Avoid drying on a hanger as this will stretch your linen and likely leave unnecessary dents
DID YOU KNOW: during summer you can simply spritz your linen dress with lukewarm water, flatten it down and it will quickly get rid of the unwanted dent or wrinkle. This can come in handy if you want to wear linen right away but you are in a hurry.
Ironing Linen
Once you've done all of the above your linen will already be looking a lot smoother but you might still want it to feel extra crisp. If that is the look you are after then you will need to reach for your iron.
Just ensure that:
Your linen clothing is still damp when you iron it if completely dry then gently spritz it with some water.
Your iron is set to medium heat.
Turn your garments inside out especially if they are darker, this will ensure that the color doesn't start to fade over time.
Lastly use some spray starch on key areas such as knees, elbows, and crotch. Or for linen bedding, you can spray it all over. This is a trick that most hotels use to get their linen sheets feeling extra crisp.
Wearing and Storing Linen to Prevent Wrinkles
If you want to keep your linen from wrinkling for a longer period of time, it would not harm to learn some tips on how to store and organize linen sheets and clothing.
Also, if you are on a trip, or simply looking for an iron-free method to relax the linen wrinkles, here are some practical and effective solutions:
If you just got your wrinkled linen shirt out of the closet and you are short of time, you can revitalize it quickly without any iron. Simply drop it in the dryer with one piece of an ice cube. Set it on low and run for a couple of minutes (10 mins would be just fine).
An even better tip to get wrinkles off your linen ASAP is by using a hairdryer. Set it on high heat and gently move it in a circular motion around the most wrinkled areas.
Have you heard about wrinkle-reducing spray? Yeah, this is the thing! And it is very convenient to have it by hand when you need to freshen up your wrinkled linen clothing and you don't have an iron.
Wearing Linen: How to Style Wrinkled Linen Clothing
Now if you are not a super radical opponent of linen wrinkles - consider trying these nice outfit ideas.


Pairing wrinkled linen shirt with crisp pants
No matter how much we love linen clothes - we do agree that if styled improperly, linen outfits might remind us of pajamas (and just look baggy and messy).
If that's what you're worried about - go for good old-fashioned contrast: slim, narrow trousers or shorts and a relaxed linen blouse or tunic over them. You can never go wrong with this option!
Pairing wrinkled linen dress with nice accessories
Linen clothing is probably one of the most universal - although people usually choose it for casual outfits when enhanced with nice accessories, a linen outfit could be your perfect choice for going out for more formal occasions.
For example, a simple, flowing, naturally wrinkled linen dress paired with a nice pair of shoes and fancy gold accessories would make a beautiful party outfit. To prove how versatile linen clothing is, we've done a little test that shows how many different outfits you can create with the same dress!
Pairing relaxed linen pants with a tighter top
This is the same styling principle as the first, but in reverse - instead of tight pants and a baggy top - create contrast by wearing relaxed linen pants and a tight top.
For example, wear a nice pair of wide-leg linen pants along with a simple top - like a neutral-colored fitted camisole top, a crop top (if the pants are high-waisted, a simple tank top, or similar). Well, you get the idea!
This way, your outfit won't look baggy or hide your body lines.

Get inspired with more useful tips on how to style linen pants here.
Final Word
So as you can see, it's not that difficult to achieve a wrinkle-free linen look. The most important thing is that linen adapts to your lifestyle and looks great no matter how you decide to wear it. Get more advice on how to get wrinkles out of linen pants here.
Nothing can stop us from wearing linen clothing - it's just too awesome!

Thank you for beautifully capturing linen: @kantyphotography @ellefotografie